Education & Capacity Building
In order to develop a successful REDD+ program in the DRC, the population must be educated about the importance of the forest, the risks associated with climate change, and the consequences of severe and unmitigated deforestation practices. Projet Équateur is training students and professionals to develop local capacity and expertise so that they will have the tools and resources to be able to implement and monitor successful sustainable development and forest conservation programs. In order to ensure the long term success of these activities, WHRC is working in partnership with the Botanical Garden of Eala, who works on research and education, and the Higher Institute of Rural Development (ISDR), a higher education organization which trains rural development experts.
---
Our current activities include:
Building a virtual library for ISDR: Mbandaka is a landlocked city in the middle of the Equatorial rainforest with limited access to books, making it difficult for students and faculty to acquire up to date information and resources. Projet Équateur is hoping to facilitate access to information by installing a virtual library. This will not only allow students and faculty access to the Internet, but also connect them with literature and educational programs that will improve the quality and relevance of their education.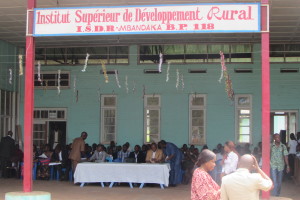 Students from ISDR chat outside as they wait for the World Environment Day celebration to begin
ISDR Mbandaka is one of several state-run higher education institutions that focuses on rural development issues
Education and communication campaign: Projet Équateur is supporting the Provincial REDD+ Focal Point in implementing a communication campaign to raise awareness about the importance of the forest, the risk of increasing deforestation and climate change. Through leaflets, technical documents, posters,* radio shows in both French and Lingala, and public events such as conferences, screening of documentaries and theatrical plays, WHRC is raising awareness about these issues among local policy makers and the general public.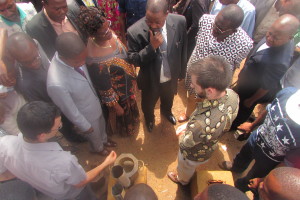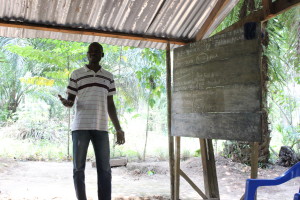 Agronomist Robin Brunet and Project Manager Melaine Kermarc demonstrate the benefits of improved cookstoves to onlookers at the World Environment Day celebrations in Mbandaka
REDD+ Provincial Focal Point Joseph Zambo explains the varied roles of the forest during a community meeting at Buya 1
Training and field activities with students: Projet Équateur occasionally organizes trainings for local experts, focusing on building their capacity so that they will be able to take supporting and leadership roles in the increasingly ambitious REDD+ program and similar rural sustainable development initiatives. Projet Équateur also organizes conferences at ISDR and is committed to engaging current students in data gathering and rural development activities to supplement their theoretical studies with practical skills. The project also supports and facilitates internships and field placements for some students.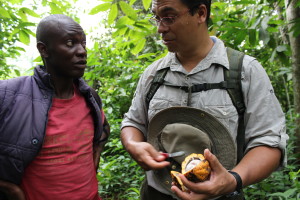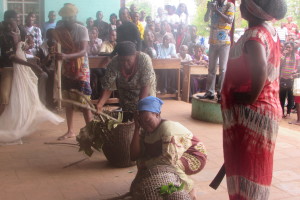 Project Director Glenn Bush explains how cocoa is processed into chocolate. There are many abandoned cocoa plantations throughout Équateur.
Students from ISDR perform a play about forest resources during World Environment Day
*Many of these educational resources are available to download for free

 here.