Biophysical & Social Research
The Congo Basin is the second largest tropical forest in the world. However, it is also the least studied.
In order to get a clearer picture of what is needed to achieve sustainable development in the DRC, WHRC carries out biophysical and social research in partnership with researchers and students from around the world. We work with our pilot villages to explore social and governance structures on the local level to ensure that project activities are targeted, practical, and beneficial for the community as a whole. WHRC is producing sound research about Équateur Province to better inform policy makers to support the success of the REDD+ program. Through teledetection, socio-economic surveys and participatory exercises, WHRC is gathering scientifically robust data and helping identifying causes of deforestation and priorities of development.
---
Our current research includes:
Socio-economic studies: WHRC has developed a methodology to gather and analyze data to evaluate the socio-economic context of target communities. The data gathered can be used to help develop an efficient REDD+ program.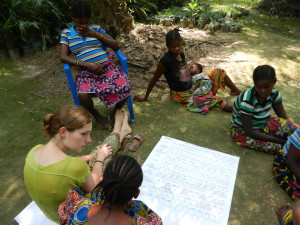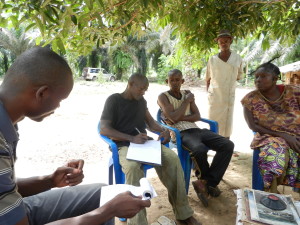 Larissa Stiem of Lund University works with women to learn more about their daily activities and use of forest resources.




Provincial REDD+ Focal Point Joseph Zambo aids in the organization and selection of focus groups.
Carbon monitoring: WHRC has mapped the carbon held in the forests of Congo, as well as the carbon lost from deforestation. These maps and other detailed reports aim to help policy makers make better informed decisions about the exploitation of forest resources. Carbon monitoring plots are also being put in place at the Botanical Garden of Eala to train local experts and student from ISDR and help improve the monitoring of forest carbon from satellite imagery.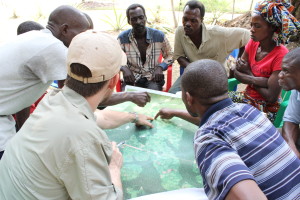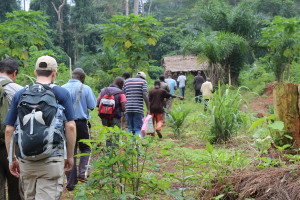 WHRC scientist Wayne Walker talks with villagers from Buya 1 about community boundaries with the help of a satellite map.




WHRC Scientists Wayne Walker and Glenn Bush follow villagers from Bokuma Mokula through their forest, marking village boundaries, primary forest, and deforested plots.
Operational Methodology: WHRC is working on developing methodologies to help improving the efficacy, efficiency and equitability of REDD+. In particular, Projet Equateur hope to produce an operational methodology for the Free and Prior Informed Consent (FPIC) process to streamline the initial phase of establishing a REDD+ project as well as negotiating payments for environmental services contracts with forest communities.